How to digitalize communication to offer a more local flavor to its clients?
The Franprix Mandarine & ARMIS Case

Context
In the past two years, Franprix committed to modernize its shops via its new « Mandarine » concept, which aims at better addressing the needs of its local city-based clients. After the phenomenal success of the first 500 shops transformed, Franprix decided to roll-out the transformation to its 860 shops throughout France before the end of 2017.
For each opening/transformation of a new Franprix Mandarine shop, the retailer has classic communication strategies, including Outdoor Advertising and Direct Mailing (via flyers). From now on, ARMIS is activated at the same time and can offer a more personalized experience at the client-shop level. The goal is to have local consumers discover the new shop during an opening event such as a « Breakfast Welcome Party ».
Results first semester 2017
ARMIS enables retailers to leverage digital media in order to reach consumers nearby the shops
Of campaigns overperformed on audience reach
Cost of consultations for the digital flyer
Of the audience reached is in the segment 18-34 years old
How it works

1 – Multilocal Ads display messages for the opening event nearby each shop

ARMIS Mutilocal Advertising technology displays messages about the opening event nearby all Franprix Mandarine shops activated: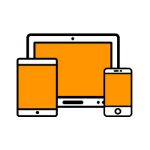 Consumers nearby the malls are reached by the ads while they are navigating on their Desktop, Mobile or Tablet device.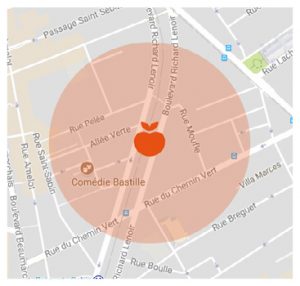 During 3 days, consumers nearby each Franprix shops are exposed to online ads that invite them to a « Breakfast Welcome Party » in their new Franprix Mandarine shop.
There are three types of ads:

The ads contain the name of the nearest shops next to the internet user.
The Multilocal Artificial Intelligence selects the right message to be delivered to the right client, at the right time, at the right place. The optimization is computed on several dimensions including content, channel, ad format, device, time of the day.
2 – Ads redirect to a digital flyer
When they click on the ads, consumers land on a digital invitation that is personalized for each shop.
Therefore each shop's campaign targets only local consumers and the message is personalized for them.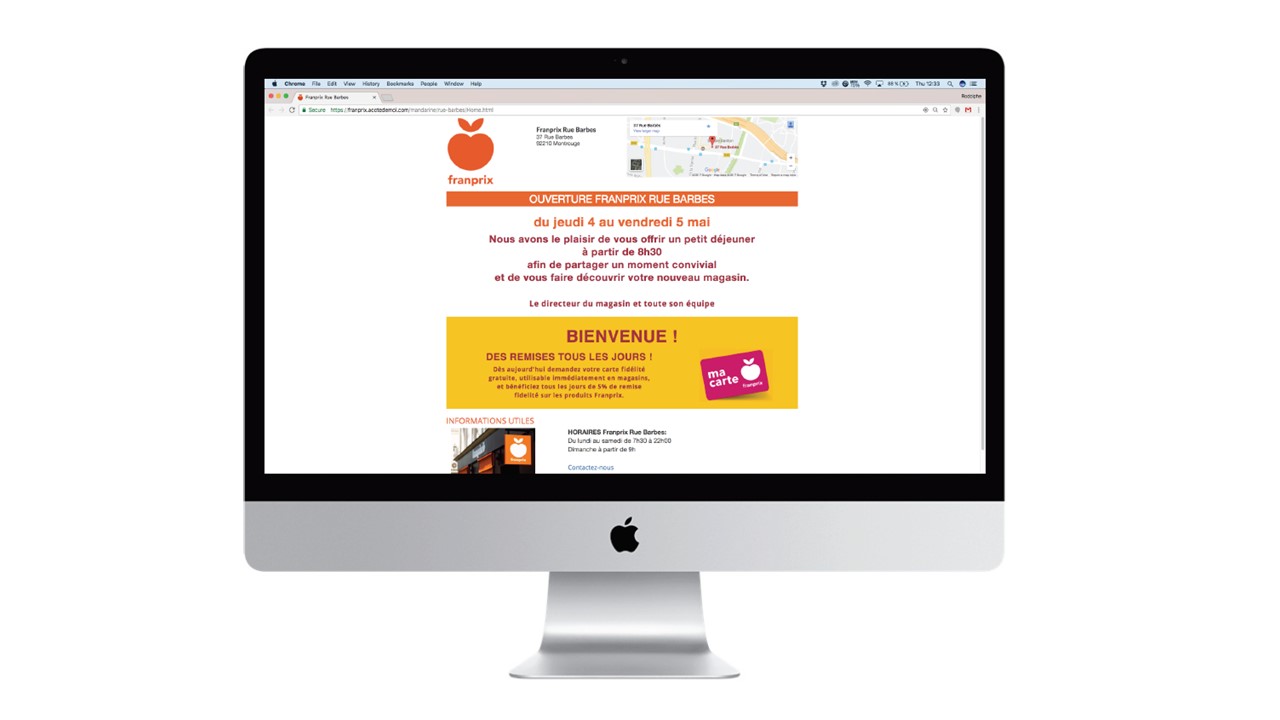 « We wanted to have an innovative communication strategy to align with our new concept, which is also innovative and redefine what a proximity store is. The ARMIS solution matched our vision and allowed us to speak to our highly-connected urban client base » said Franprix